Broken Wall Community Church
Broken Wall Community Church is a community of faith in West Baltimore seeking to integrate the values of authenticity, community, advocacy, and transformation as we follow Jesus. We believe that diversity ethnically, educationally, and financially makes us better.
Get Involved
Severn Runners first got to know Pastor Ron Willoughby of The Broken Wall Project as a guest speaker with The Church at Severn Run. His message was simple, genuine, and passionate. His calling to plant a church in West Baltimore seemed obedient and many Severn Runners were compelled by this and wanted to assist.
Initially, we were unsure of how we could be helpful contributors for The Broken Wall Project. We started out by joining the worship and monthly potluck, bringing dishes to share and joining in fellowship with Broken Wall families while serving. We shared meals with people in the community and kids coming to spend their Saturdays together rather than on the streets.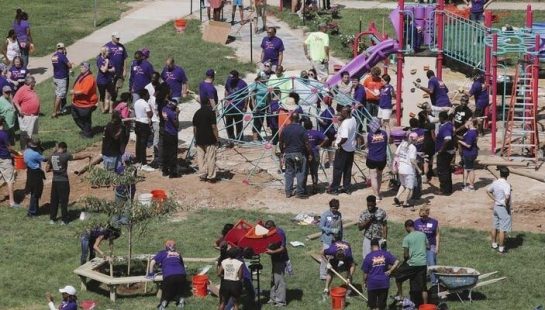 In summer of 2018, we joined the flood recovery effort in the community. While teams organized to help restore homes for forgotten flood victims, several of us had the opportunity to connect with residents on a personal level and join in prayer over the hardships that so many were experiencing locally. It was a wonderful experience connecting with people and building relationships for the kingdom during such a devastating time.
There are now many Severn Runners helping with The Broken Wall Project's ministry, including coaching kids' basketball teams, leading and partaking during worship, and spending the better half of their Saturdays serving at The Broken Wall community. We would love to have you join us.
If you would like more information, please contact Gloria below.